Digital Marketing Workshop:
Join us for an immersive online experience designed to empower you with the skills and knowledge needed to excel in the dynamic world of digital marketing. In just three days, you will transform into a proficient digital marketer, equipped to craft and implement successful online strategies. (Click to learn more).
Negotiation Skills Training for Retailers, Marketers, Trade Marketers and Category Managers
Experiential learning via simulator in a relatable, real world setting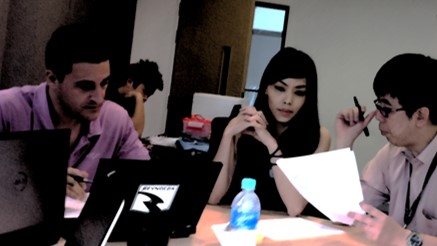 Exhibit Executives using the Destiny marketing simulator in an experiential learning based negotiations skills program.
Negotiation is one of the most important skills that you need to develop as a leader. In business context, it is essentially a dialogue intended to reach an outcome that benefits the business partners. And because negotiators are often competing for profits or the value they can derive through collaboration, negotiations can be challenging and stressful. This is particularly true if the stakes are high, and you lack leverage.
The Destiny simulation provides a framework for practicing negotiations in the context of retailers and manufacturers in the fast moving consumer goods (FMCG) sector. More than a negotiations training platform, Destiny is a highly advanced FMCG (CPG) business simulator offering a holistic learning experience for marketing and retailing professionals. Pitted against one another, participants learn to implement effective marketing and business strategies, and develop an understanding of what drives store choice and brand choice. They become proficient in the use of market knowledge and financial data for day-to-day business decisions, acquire a deeper understanding of supplier-retailer relationships, and refine their negotiation skills.
In consumer markets, trade relations are key to success. Retailers and manufacturers need to collaborate to achieve superior business results.
Manufacturers recognize that increasingly brand choices are made in stores. What is stocked, where, at what price and with what incentives has great influence on the consumers' buying behaviour and ultimately their choice of brand. Hence the need to collaborate with retailers to strengthen their brands' in-store presence and boost sales.
Retailers, likewise, rely on the support of manufacturers to achieve their goals. The retailing mix needs to be aligned with category/brand roles and strategies. Traffic builders, profit generators, image enhancers, turf defenders etc. require distinctly different emphasis and execution plans.
When trade partners negotiate, they seek not only to jointly enhance marketplace equity, but also to secure greater profits from the sale of products. The outcome of the negotiation determines the effective margin that the manufacturer and the retailer make on the sale of an item.
The above framework is ideal for trade marketers, category managers, retailers and marketers from consumer markets to hone their negotiations skills. It induces experiential learning in a highly competitive setting that evokes the right ambiance and triggers the emotions that negotiators feel in real negotiations.
This is important because emotions and ambiance are crucial aspects in any negotiation. Without these elements, and without a relatable setting, the training becomes a purely theoretical exercise that does not adequately prepare the participants to cope with the challenges they face in the real world.
The author, Ashok Charan, is the developer of the Destiny marketing simulator. He has over 26 years' industry experience, working at companies like Unilever and Nielsen, and is currently teaching at the NUS Business School.
Related articles:
Destiny: Consumer Marketing Simulator