Exhibit Internal Linkages and On Page Optimization.
This 2-day hands-on training programme on Digital Marketing, conducted at the NUS Business School, is designed to make participants more effective in developing and executing digital marketing strategies.
This webpage provides the key elements and the general framework for the Workshop.
Click here for enquiries/registration.
Marketers are often building cyber assets — websites, blogs, Facebook pages, LinkedIn profiles, YouTube brand channels and so on — because everyone seems to be doing so. Not much thought goes into the strategy or the execution. The outcome is a collection of disconnected properties that diffuse and disorient their brand, and confuse customers.
It is crucially important that before you implement anything on the internet, you have a cohesive strategy that integrates all offline and online brand assets, such that all the elements play well-coordinated, yet distinct roles. That your brand's communication and imagery remains intact as customers move across the media platforms, yet each channel contributes incrementally to its equity.
This workshop will help you achieve these outcomes. It will give you a clear understanding of the building blocks that constitute digital marketing, and equip you with the tools, the techniques and the knowledge to develop cohesive market strategies, and prepare and execute effective digital marketing campaigns.
Importantly, the workshop imparts hands-on training on the digital tools and techniques. Participants will learn to optimize for search engines (SEO) using Google Search Console and Google Analytics, and they will learn how to optimize advertising campaigns with Google Ads.
The course combines well with the Digital Marketing eGuide, which charts out a well-structured learning agenda that is adopted in the workshop.
NOTE: The Digital Marketing eGuide is also covered within the MarketingMind platform, under 'DIGITAL'.
---
Exhibit mas-Homefinder.com, a property portal for selling and renting out properties, is used to illustrate the
building blocks and techniques of digital marketing.
The workshop aims to make you more effective in developing and executing digital marketing strategies. It will help you:
Learn how to adapt to the new world of marketing. Perceive how the internet has transformed the way brands engage with consumers, and appreciate the new rules and perspectives.
Embrace the tools and techniques required to succeed in digital marketing.
Learn to develop and execute digital marketing plans, including aspects such as website building and optimization, development of content scheme, use of social media, advertising, conversion and nurturing leads, and tracking and monitoring.
Reach your target market through Google Ads. Using a case study, you will rehearse the processes of strategizing, planning, developing, executing and evaluating ad campaigns. And you will gain hands-on experience with the Google Ads platform.
Enhance search performance with Google Search Console's tools and functions. You will gain hands-on experience using the Google Console platform to monitor search performance, check indexing status and optimize visibility.
Improve business performance through web analytics. You will gain hands-on experience using the Google Analytics platform to monitor and evaluate performance, and draw insights to strengthen the business.
---
Given its focus on the practice of digital marketing, the workshop is tailored to the needs of marketing professionals, entrepreneurs and consultants, across both consumer and business markets.
It is useful for business managers in the companies that are embrace digital marketing.
---
The workshop comprises a number of sessions, covering the following topics.
The new media environment emphasising the new rules and perspectives, and how marketers must adapt to the new marketing landscape.
The dos and don'ts of digital marketing. Through a case study, participants learn the strengths and limitations of social campaigns, and grasp the complexity of managing a brand public relations crisis.
Digital Marketing tools and techniques to succeed in the digital age. The necessity to chalk out multi-media strategies to get discovered in cyberspace, and serve useful and interesting information.
Overview of social media, highlighting the core differences between the networks and the best marketing practices to adopt for each of the platforms.
Search Engine Optimization processes for on-page and off-page optimization, with the aim to impart an understanding of how to increase inbound traffic and channel it down the digital marketing funnel.
Demonstration of the tools and functionality of Google Search Console to monitor and improve site search performance.
Web Analytics to monitor the health of a website vis-à-vis metrics, KPIs and benchmarks, improve its effectiveness in drawing traffic and converting users, and assess the digital marketing mix.
Hands-on experience with the Google Analytics platform to monitor, evaluate and enhance business performance.
Search advertising to attract search traffic. The Google auction, keyword strategies, and practices to improve the effectiveness of search advertising.
Demonstration of how to use Google Ads to research keywords, forecast campaign performance, and to create, launch and monitor search campaigns.
The relevance of some of these topics is described in the sections that follow.
Through a case study, this session imparts an appreciation of the use of social media to understand consumers' preferences, and role in revitalizing a mega brand. Participant learn the strengths and limitations of user-generated content for taking business decisions. They also grasp the complexities of managing a brand public relations crisis in the context of social media.
Exhibit Spurred by the new media, we are seeing the rise of populist
politicians (Photo courtesy of IE Humanities Center, IE University).
Ordinary people empowered with the social media are interacting and collaborating with increased speed, reach and effectiveness. This has had a profound impact on society, changing the political, economic and cultural landscapes across the globe.
This session imparts an understanding of the impact this has had on marketing and on society as a whole. It highlights key lessons for marketers, and outlines how the rules and perspectives have changed.
The session also discusses concepts such as social listening, social cloisters, permission marketing, inbound and outbound marketing, buzz marketing, co-creation and crowd sourcing, and the ability in the virtual world to ride the long tail of product offerings.
Through these discussions, participants gain full appreciation of how the marketer's mind-set must change to succeed in the social age.
Exhibit GoPro's brand channel showcases Karma.
Marketers must adapt. As they embrace digital marketing, they need a multi-media strategy to attract, convert and retain customers. On the web, they must draw customers by serving useful, relevant and interesting information. This contrasts with conventional media, which involves different forms of "buying" attention to push products to customers.
Through an understanding of the opportunities and threats, and the new frameworks, tools and techniques, this session imparts an understanding of how to succeed in the digital era.
Exhibit People get together and converse on social platforms.
Consumers are creating content and uploading it on a variety of online media platforms. These platforms are increasingly becoming the "places" where people get together and converse. All over the world they are communicating online on social networking sites like Facebook, microblogging services like Twitter, content sharing services like YouTube and Instagram, and LinkedIn, the business and employment-oriented networking site.
The wide range of facilities and features that these sites offer, make it easy for users to expand their network, and create and share content with friends. Social is highly conducive to viral marketing; it can fuel and propagate campaigns to generate considerable buzz and awareness for a brand.
From the consumer marketers' perspective, since this is where their consumers are hanging out, it is where they should engage with them. Most networking sites provide the means for doing so.
This session covers some of the leading social sites including:
Facebook
Twitter
YouTube
LinkedIn
Focussing mainly on the use of these platforms for digital marketing, the session dwells on organic and paid advertising, the advertising options and formats, and the effective use of the distinct platforms for advertising, and engaging and connecting with consumers.
Exhibit Keywords, both long and short, are the cornerstones to success on search platforms.
This session pertains the two fundament approaches — Organic and Paid — to improving a site's rank on search engine result pages (SERPs).
Paid search marketing falls under the purview of Search Advertising. These ads are sponsored links that appear at the top, bottom or alongside SERPs.
The process of organically drawing traffic to your online properties, called Search engine optimization (SEO), encompasses technical and creative approaches to attracting traffic by improving SERP rankings, seeking customers' attention, helping search engines comprehend the topic of your web pages, and making it easier for crawlers to find web pages.
Exhibit Search engine optimization process.
Securing a high rank on search platforms is of such enormous interest that a completely new industry emerged in the early 1990s. Referred to as search engine optimization (SEO), it helps marketers optimize their websites for search.
SEO is the process of boosting the ranking of a site on search result pages. It is of crucial importance because the ranking greatly affects site traffic. Most users do not look beyond the first result page, and the higher a site ranks on this list, the higher the probability the user will visit the site. According to Google 94% of users click on a first page result and 35% click on the top result.
This session imparts an understanding of the SEO processes — strategize, optimize and review — outline in Exhibit. It explains on page and off page optimization, imparting an understanding of how to increase inbound traffic and how to improve in-site retention.
Exhibit The Google Analytics platform.
Web analytics is the analysis of the behaviour of internet users. It serves the following key objectives:
Monitor the health of a website — Track and measure web traffic to assess performance vis-à-vis benchmarks and metrics.
Improve effectiveness of the website in terms of conversion rates and other performance parameters by means of controlled website tests.
Improve effectiveness of elements of the marketing mix. For example testing/evaluating digital marketing campaigns.
Web analytics tools use information from logs, cookies and/or page tagging processes to segment site visitors and track their progress down the prospecting funnel, from leads to enquiries, enquiries to prospects, and prospects to customers. They track conversion rates at each stage of the prospecting funnel.
To achieve the above mentioned objectives, this session dwells on the following web processes:
Data Collection — Server (Web) Logs, Page Tagging.
Data Processing — Metrics.
Reporting — Analysis and Visualization.
Industry Benchmarks and Competitive Intelligence.
Optimization.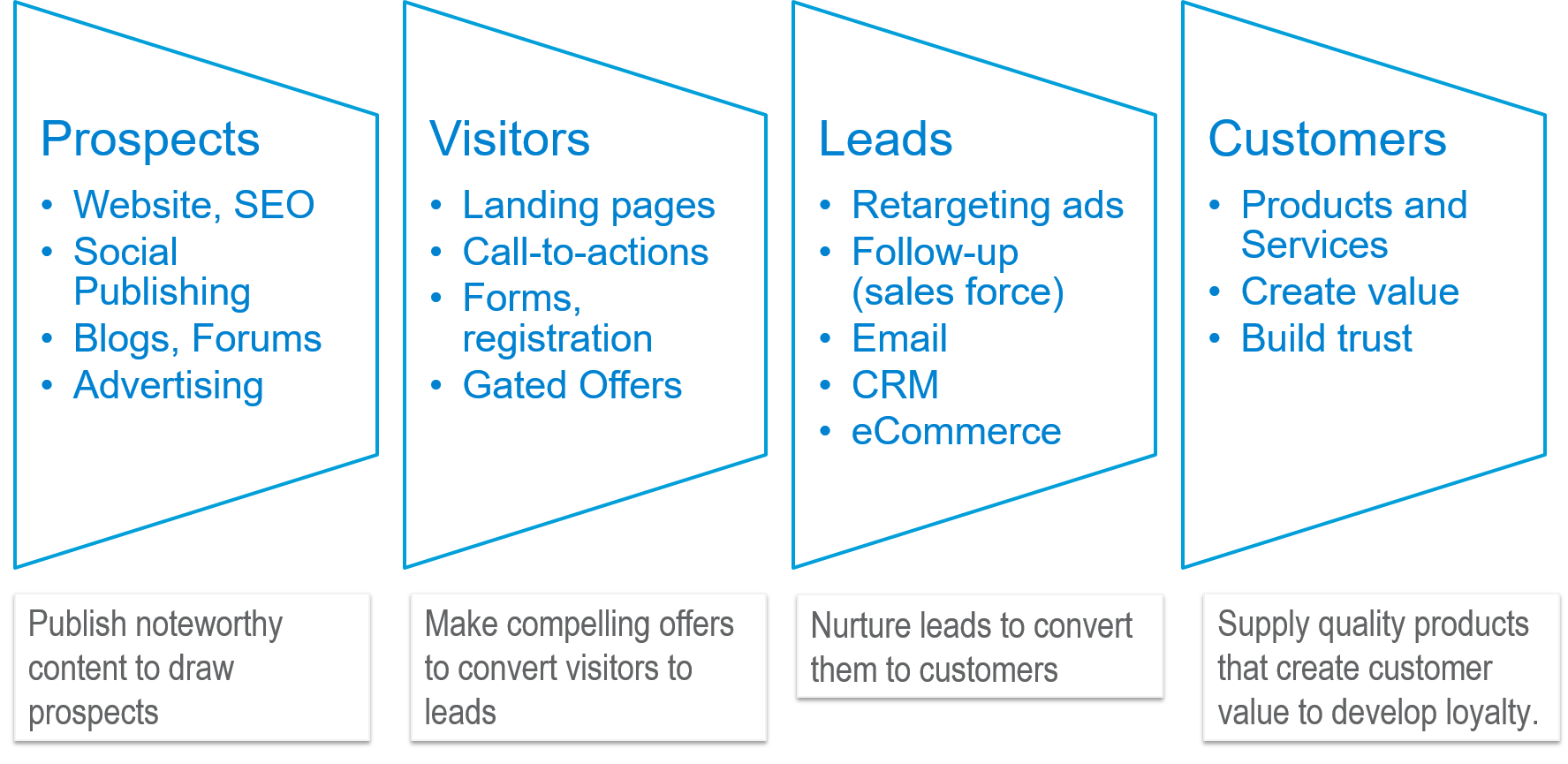 Exhibit Digital Marketing Funnel.
The session provides a systematic guide to executing digital marketing plans. It covers the key aspects including website development and optimization, content scheme, use of social media, paid advertising, conversion scheme, and tracking and monitoring.
Participants examine websites, their company's site or, for instance, the HomeFinder site, in the context of the digital marketing opportunities and strategies, website design practices, and the websites' objectives. They reflect on the positive aspects of the site, and on the areas that need improvement, concluding with actionable recommendations.
Exhibit Google Search Console.
The most important facet of this workshop is the hands-on training on Google Search Console, Google Ads and Google Analytics, imparted through live business platforms:
mas-Homefinder.com: Taking this property portal as a case study, you will rehearse the processes of strategizing, planning, developing, executing and evaluating ad campaigns. You will access the mas-Homefinder Google Ads account to learn the tools and functions, and to understand how the Google Ads platform may be used to target and optimize search ads.
Marketing Mind is a platform for sharing knowledge on marketing analytics. You will be granted access to the Google Analytics and the Google Search Console accounts for this website so that you can evaluate how it in the context of digital marketing and search engine optimization.
---
---