Exhibit Advertising on YouTube.
This 2-day hands-on training programme on Digital Marketing and Advertising is designed to make participants more effective in developing and executing digital marketing strategies.
This webpage provides the key elements and the general framework for the Digital Marketing Workshop. The programme, however, is custom designed for corporations; the schedule and venue vary in accordance with preferences, and the duration is usually 2 days.
Click here for enquiries/registration.
Very often marketers are building cyber assets — websites, blogs, Facebook pages, LinkedIn profiles, YouTube brand channels and so on — only because everyone seems to be doing so. Not much thought goes into the strategy or the execution. The outcome is a collection of disconnected properties that diffuse and disorient their brand, and confuse customers.
It is crucially important that before you implement anything on the internet, you have a cohesive strategy that integrates all offline and online brand assets, such that all the elements play well-coordinated, yet distinct roles. That your brand's communication and imagery remains intact as customers move across the media platforms, yet each channel contributes incrementally to its equity.
This workshop will help you achieve these outcomes. It will give you a clear understanding of the building blocks that constitute digital marketing, and equip you with the tools, the techniques and the knowledge to develop cohesive market strategies, and prepare and execute effective digital marketing campaigns.
It combines well with the Digital Marketing eGuide, which charts out a well-structured learning agenda that is adopted in the workshop.
---
Exhibit Hindustan Unilever's Sunsilk website offers tips on hair care.
With the goal of making you more effective in developing and executing digital marketing strategies, this workshop will help you:
Perceive how the internet has transformed the way brands engage with consumers, and appreciate the new rules and perspectives.
Understand how to adapt.
Embrace the tools and techniques required to succeed in the new media environment.
Learn to develop and execute digital marketing plans, including aspects such as website building and optimization, development of content scheme, use of social media, advertising, conversion and nurturing leads, and tracking and monitoring.
Learn the fundamentals and vital concepts of advertising and communication. Gain a sense of how advertising works, and what mechanisms work best for different marketing objectives.
Learn how to assess and evaluate the performance of digital marketing campaigns through behavioural and attitudinal engagement metrics and measures, and make use of a broad spectrum of digital and consumer analytic tools and techniques.
Gain an understanding of how analytic techniques and research processes are being refined and re-engineered, in the multi-media environment of marketing and advertising.
---
Given its focus on the practice of digital marketing, the workshop is tailored to the needs of marketing professionals, across both consumer and business markets.
It is also useful for professionals in other functional areas who need to adapt as their organizations digital marketing.
---
The workshop comprises of a number of sessions, each designed to achieve one or more of the learning objectives.
Dos and Don'ts of Social Media Marketing
Through a case study, this session imparts an appreciation of use of social media to understand consumers' preferences and revitalize a brand. Participant will learn the strengths and limitations of the use of user-generated content for taking business decisions. They will also grasp the complexities of managing a brand public relations crisis in the context of social media.
The New Media
Exhibit Spurred by the new media, we are seeing the rise of populist
politicians (Photo courtesy of IE Humanities Center, IE University).
Ordinary people empowered with the social media are interacting and collaborating with increased speed, reach and effectiveness. This has had a profound impact on society, changing the political, economic and cultural landscapes across the globe.
This session imparts an understanding of the impact this has had on governments, markets and society as a whole. It highlights key lessons for marketers, and outlines how the rules and perspectives have changed.
The session also discusses concepts such as social listening, social cloisters, permission marketing, inbound and outbound marketing, buzz marketing, co-creation and crowd sourcing, and the ability in the virtual world to ride the long tail of product offerings.
Through these discussions, participants gain full appreciation of how the marketer's mind-set must change to succeed in the social age.
Digital Marketing — The Mechanisms and What it takes to Succeed
Exhibit GoPro's brand channel showcases Karma.
Marketers must adapt. As they embrace digital marketing, they need a multi-media strategy to attract, convert and retain customers. On the web, they must draw customers by serving useful, relevant and interesting information. This contrasts with conventional media, which involves different forms of "buying" attention to push products to customers.
Through an understanding of the opportunities and threats, and the new frameworks, tools and techniques, this session imparts an understanding of how to succeed in the digital era.
This section covers a broad spectrum of platforms including websites and apps. It covers the vast range of digital advertising and communication options including search advertising, social media advertising, with attention to major social platform such as Facebook and YouTube. It also delves into personalization, search engine optimization and web analytics.
Digital Marketing — Planning and Execution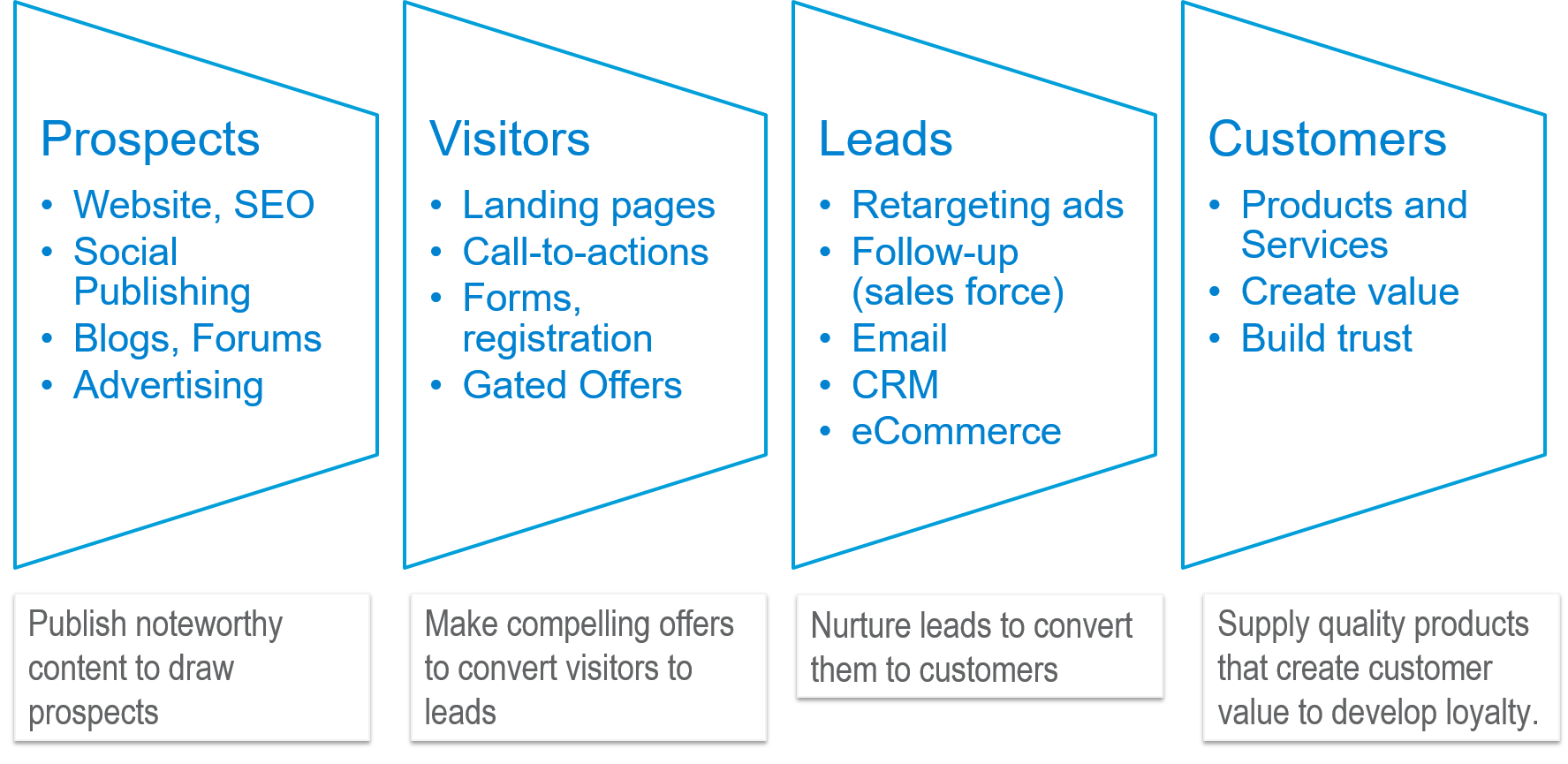 Exhibit Digital Marketing Funnel.
The session provides a systematic guide to executing digital marketing plans. It covers the key aspects including website development and optimization, content scheme, use of social media, paid advertising, conversion scheme, and tracking and monitoring.
Importantly participants get to experience different aspects of digital marketing through various exercises.
They examine websites, including their company's site, to assess and evaluate how it performs vis-à-vis key objectives, taking into consideration digital marketing opportunities and strategies, and website design practices.
Reflecting on the positive aspects of the websites, and on the areas that need improvement, the exercise concludes with recommendations that participant can act upon.
How Advertising Works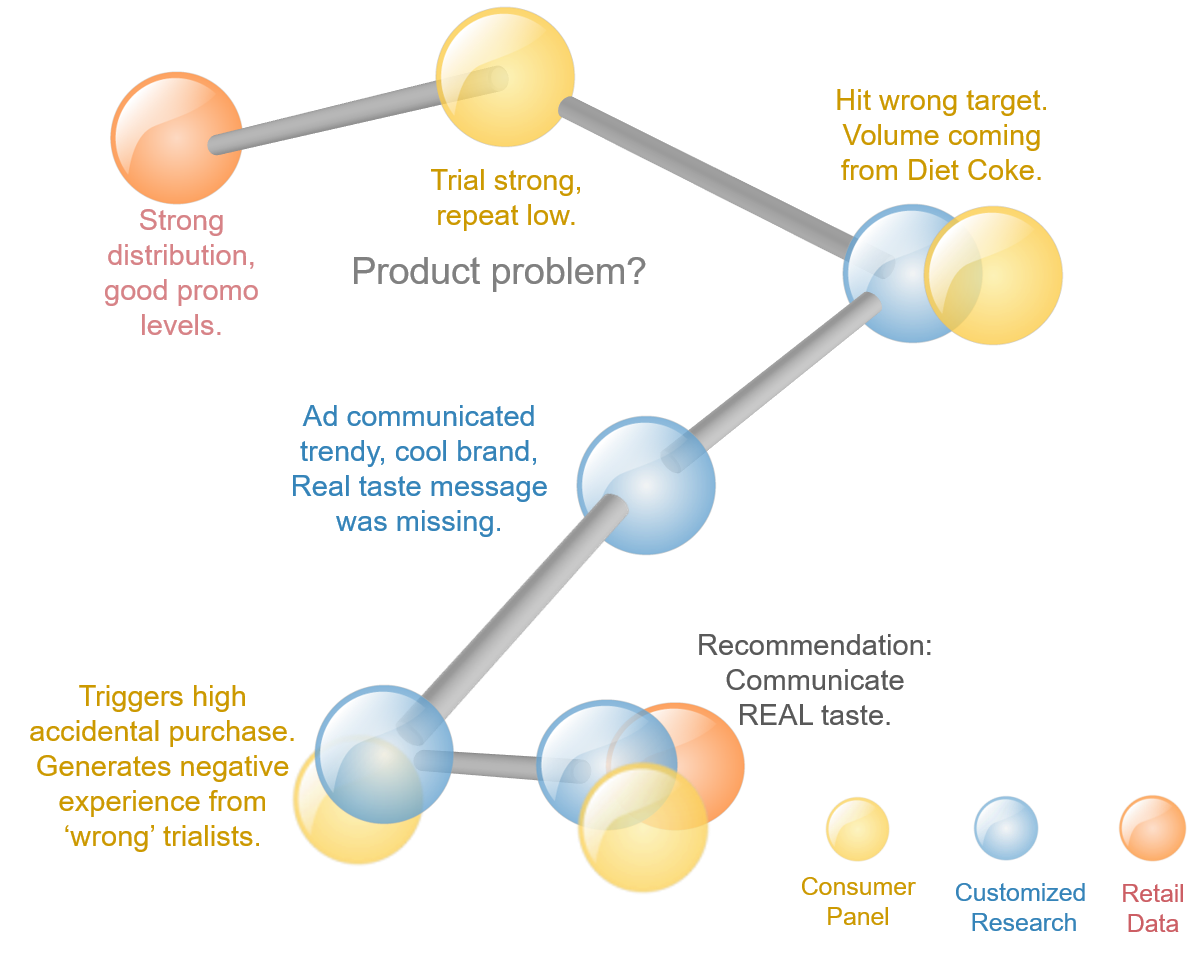 Exhibit Case Example — Coke Zero launch.
This session is devoted mainly to understanding how advertising works, the mechanisms and the key themes — salience, persuasion, likeability, symbolism, relationship, emotion — that form the basis for many of the theories on advertising. It imparts an understanding of the ingredients that make advertising effective and impactful, in the context of the diverse communication objectives of different categories of products.
Advertising Analytics (optional session)
Exhibit Measuring Advertising Effectiveness.
This session reviews the imperatives in advertising analytics, and describes the methods employed by major global advertising research firms such as Millward Brown and Ipsos ASI, to pre-test (copy test) and post-test (track) advertising.
In the context of audience measurement, the discussion encompasses the challenges of total audience measurement and the industry developments in this regard.
---