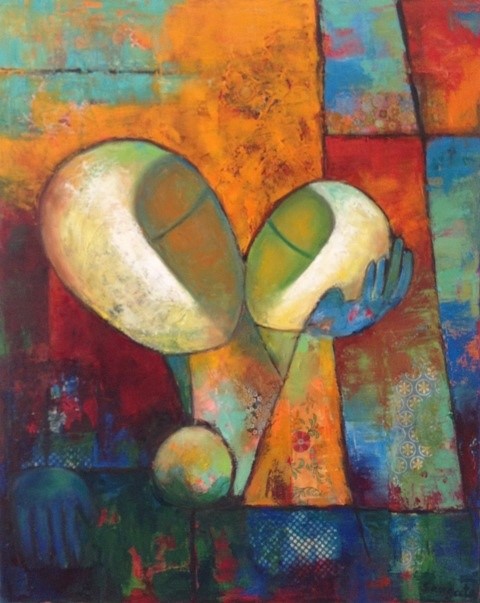 Exhibit Schizophrenic Consumers: Consumers are complicated and unpredictable. (Painting courtesy of Sangeeta Charan, Singaporean artist).
An ordinary consumer can be extraordinarily unpredictable. She is a daughter, a wife, a mother and a career woman all rolled in one. Not only is she made up of a number of different people, she has different moods; and her needs and preferences are shaped by who she is and what mood she is in at the moment she is considering a purchase.
This unpredictability was highlighted some years back in a Nielsen report. While analysing consumer trends across the globe, the report described consumers as schizophrenic. Often the same consumer, depending on her state of mind, or on what is happening in her life at that moment, is buying products that one would place in diametrically opposite segments:
"I usually eat healthy but it has been a hard week and I want to treat myself."
"If I'm just cooking for myself, I go for shortcuts or buy something ready to cook... but when I have friends over, I cook from scratch to make it special."
"I try to eat fresh produce, but I also buy frozen vegetables for when I don't have time for the store."
Health versus indulgence, value versus premium, fresh versus frozen, large versus small portion, do-it-yourself versus convenience, organic versus local — these conflicting influences reflected in the market trends seen across the globe, highlight the importance of studying consumers in the context in which their needs arise.
---
Market segmentation is typically defined as the process of partitioning a market into groups of consumers with distinct needs and preferences. For many categories it might be better to describe it as the process of partitioning a market into groups of consumers' need-states, reflecting distinct needs, preferences and circumstances. The same consumer often falls into multiple segments, her preferences varying according to her need-states.
This chapter imparts an understanding of the meaningful criteria used to segment markets, the analytic methods employed to carve segments, and the applications of market segmentation.
The chapter is devoted mainly to the two fundamental approaches to segmentation:
and the process of segmentation analysis.
It introduces the concept of need–states, and how they impact on the choices consumers make. And it describes the simple decision rules or mental heuristics that consumers rely on for taking low budget purchasing decisions. It also outlines the factors for selecting the segments to target.
MORE ... CLICK to read chapter in MarketMind